Google Announces App Engine

By: Andy Beal | 2008-04-09
Unless Marketing Pilgrim was the first stop in your online news reading this morning-in which case we thank you-you've probably noticed the buzz surrounding Google's launch of Google App Engine.
Taking the Web into our own hands, one computer at a time
While web developers salivate at the thought of free web hosting for their online applications, no one is asking "Why?"

Why would Google enter the web app hosting space and give it away for free? I'll tell you what I think, in a moment, but first let's take a look at what they've won


During this preview period, applications are limited to 500MB of storage, 200M megacycles of CPU per day, and 10GB bandwidth per day. We expect most applications will be able to serve around 5 million pageviews per month. In the future, these limited quotas will remain free, and developers will be able to purchase additional resources as needed.

• Dynamic webserving, with full support of common web technologies
• Persistent storage (powered by Bigtable and GFS with queries, sorting, and transactions)
• Automatic scaling and load balancing
• Google APIs for authenticating users and sending email
• Fully featured local development environment
Google App Engine will initially open to the first 10,000 developers who sign-up-you'd better hurry-with the rest of us getting free access after the "preview" period.
OK, so
why is Google giving this all away for free
? I found the clue in something that
Matt Cutts said
.
Your application can authenticate users that are using Google Accounts, so you can avoid the whole "ask your users to create a new account" issue if you want.
Oh how convenient. OK, it is actually convenient-most people have a Google Account, even if it's just for Gmail-but it does make you think about Google's motives for Google App Engine. If Google's providing the heavy-lifting for your new web application, why wouldn't you use its authentication for your new users-one less thing to worry about right? From there, you users are just a short step away from using Gmail, Docs, YouTube, and then clicking a multitude of ads.
With computer and bandwidth costs dropping like a lead balloon, Google just launched the world's most sophisticated affiliate referral program-substituting web space for commission payments. And it doesn't hurt that Google also gets to build its own mini-WWW in the process.
Why do you think Google's launching App Engine? What did I miss?
While you give that some thought, here's video from last night's "Campfire" announcement.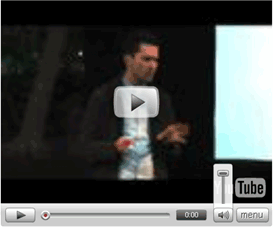 (Note: We'll say it for you Matt. Matt Cutts' blog posts represent his personal views, not those of Googlenecessarily.) ;-)
Comments
About the Author:
Andy Beal is an
internet marketing consultant
and considered one of the world's most respected and interactive search engine marketing experts. Andy has worked with many Fortune 1000 companies such as Motorola, CitiFinancial, Lowes, Alaska Air, DeWALT, NBC and Experian.
You can read his internet marketing blog at
Marketing Pilgrim
and reach him at
andy.beal@gmail.com
.